4 Pieces Parasol Base Weight Stand with Concave Handles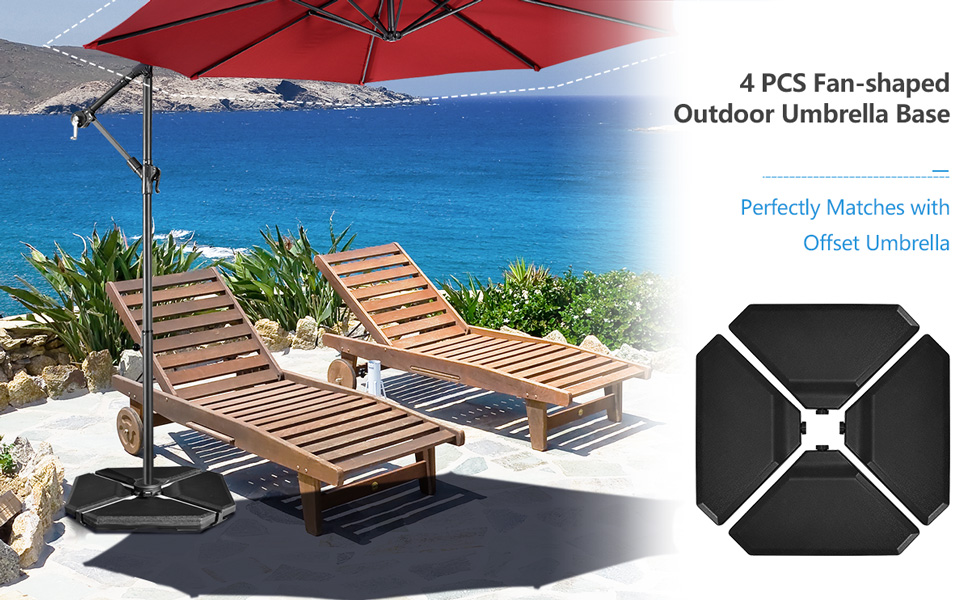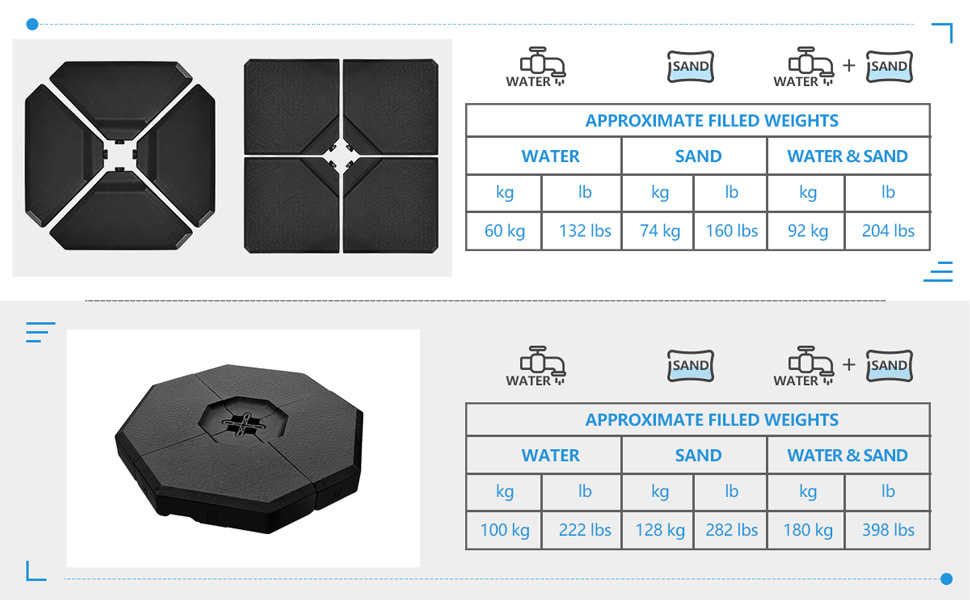 Are you still looking for a sturdy and durable base weight to support your umbrella? Do not hesitate to place an order!
Premium Material for Durable Use: Constructed of durable PE material and sturdy 4-plate construction, this hard base weight can support the offset or cantilever patio umbrella firmly. After an excellent blow moulding process, it also has weather resistance and long-lasting quality, which can protect from sun, rain and fading.
Amazing Maximum Weight and Size: After each plate is filled with wet sand, the entire umbrella base can weigh up to 180 kg. This allows the plate to add the extra weight needed to improve the stability of the umbrella in strong winds conditions. In addition, the large size panel of 103cm x 103cm x 13cm provides additional stability.
Easy to Fill and Carry: Each plate has a large-diameter water inlet, making this cantilever cross stand very easy to fill with water. It can be done in seconds without wasting too much time. Moreover, the concave handle on each plate can also be easily lifted and carried. Especially convenient for storage when not needed.
Unique Styling and Versatile Design: Featuring a distinctive octagon shape and stylish textured surfaces, this elegant base weight can match any surrounding decor and add glamour to your outdoor space. Reliable umbrella base weight can be used in multiple scenarios, perfect for patio, garden, courtyard, porch and poolside.
Simple Assembly and Maintenance: The product is in blocked assembly mode that is very suitable for disassembly and assembly. Each plate can be connected by 4 connectors and heightening pad, with slots on both sides to ensure tight fastening without moving. We will also provide 4 screws for assembly. The black surface is very resistant to dirt and easy to maintain.
Specifications
Colour: Black
Material: PE
Overall dimensions: 103 cm x 103 cm x 13 cm (L x W x H)
Each plate dimensions: 72 cm x 45 cm x 13 cm (L x W x H)
Net weight: 9 kg
The weight of filled with water: 100 kg
Package includes:
1 x  Base weight
1 x  Instruction manual